Reducing Employees' Hours During Covid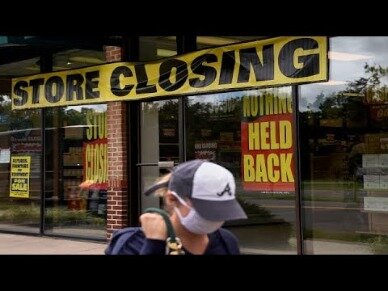 I'd now like to spend a minute or two on some of the other macro-driven trends we've observed in our client base. Our pays per control metric, which represents employee growth for a broad subset of our client base were solid through February but decelerated to a slight negative growth by the end of March, averaging 1.9% growth for the quarter. Early in April, we saw it deteriorate further to a double-digit negative decline, with the steepest decline among smaller businesses.
And just this month, we made Wisely Direct available to our mid-market Workforce Now clients, which we believe will be beneficial to the many workers in our base that still get paid by a paper check. And, of course, we discussed our Next-Gen HCM, which we believe represents a big step ahead of current offerings in the market, and for which we remain excited about scaling and selling more broadly.
But I have no concerns about the solidity of our business on every front coming into the third quarter. I think you do see some subtle differences in terms of company cultures and I think behavior. So as an example, one of the things that we have always, I think, competitors has talked about is this willingness by us to really help our clients navigate these things, not just provide them the software solution.
Again, every time you have a recession, it's a different kind of recession.
But what we can tell you is that the way we count pays per control is very straightforward.
And so we would not probably be able to give you a firm number of how many people are furloughed versus how many people are laid off, because we don't control necessarily that coding in the system and clients can exercise some discretion about how they, I guess, tag some of their employees.
It's whether or not someone got paid during that period of time that we're counting.
But what we do know is that if somebody doesn't get paid, they don't get counted in pays per control.
But what we can tell you is that the way we count pays per control is very straightforward. It's whether or not someone got paid during that period of time that we're counting. And so we would not probably be able to give you a firm number of how many people are furloughed versus how many people are laid off, because we don't control necessarily that coding in the system and clients can exercise some discretion about how they, I guess, tag some of their employees. But what we do know is that if somebody doesn't get paid, they don't get counted in pays per control. I mean, we think the PEO business is solid and strong and I think tends to weather recessions better. Again, every time you have a recession, it's a different kind of recession. So we had our financial crisis last time, this time it's a health crisis.
Steps To Discharge Employees
Furthermore, the CARES Act has a provision that allows companies to defer the payment of the employer portion of payroll taxes, which represents less than 5% of our average client fund balance. But depending on the actual take rate of that provision, we could see further pressure on our balance growth. As a result of all these factors, we now expect 1% balance growth for the full year which implies a low double-digit decline in the fourth quarter. To adjust the size of our client fund investments to match expected changes in average client payroll and tax volumes, beginning in March, we halted all new reinvestment of maturities in our client long and extended portfolios. And in April, we took the additional step of selling approximately $1.2 billion of previously purchased securities in the client long and extended portfolios. This decision to suspend new purchases means our Q4 interest income forecast reflects a slightly greater skew to overnight rates than previously forecasted. Both the suspension of new purchases and the completed sale of securities is contemplated in our guidance.
I think the number one reason is really just structural in the sense that when you look at overall ADP, we have clients all the way from single employee all the way to very large national accounts. The PEO, at least in our case, the PEO tends to the average sized client, just from practical standpoint is 45 and we tend — we try to stay away from clients that are under 10 employees. We have some clients, obviously that are between five and 10 employees. But in general, the sweet spot of the PEO is kind of around 45, that's the average. And so it's just the nature of the structural difference of that business versus the others that the pays per control is not going to decline as much as the overall average, if you will, where you have some of that average being in the small business — in the small business market. But as I've seen myself in the last four to five weeks, you have to take any forecast with a large grain of salt. So the best approach, we think you can have right now, is to remain flexible and agile about how you're planning and what you're planning for.
Then closely behind that, I think, is we have a very large Workforce management business or what some people would call time and attendance, and so that is also data that is very helpful in terms of seeing number of hours worked. So that should show an upturn before we show — we see upturns and other things because people will take the existing people they have now and just have them work longer hours rather than adding additional people. So the addition of people will probably be the final, I think, sign of recovery.
That's not what we generally do for our typical payroll clients. That helps our clients a lot and relieves them of a big burden and provides those employees a lot of comforts. And so, as an example, as the government rolled out the Payroll Protection Program, we saw 40% to 50% spikes in inquiries right through whether it's phone or chat or by email. And so we had to work people over time, we had to work people on weekends, which we're very grateful that people were willing to do because you can imagine, they've got lots of other concerns and distractions as this is all going on. Believe in yourself and your experience and your background that you have built and start looking for other jobs throughout their payroll companies are other companies. ADP will be losing more clients by the end of the year Marriott hotels with client leaving at the end of the year they made a great choice to leave ADP. This was very insulting on a professional level and a professional personal level because we are always professional and dress very nice for daily so why were we asked to put on the show because Delta Airlines want to walk through the building.
Private Payrolls Grew By 307,000 In November, Missing Expectations: Adp
By the way, we have an economist on our Board and he referred to as the Nike Swoosh, but that's probably a copyright or trademark violation. So I won't use the Nike Swoosh, but you get the idea, abrupt drop and hopefully a climb back up over some period of time. Hopefully that climb is over the course of three to six months and not over the course of 12 to 18 months.
So I'm always cautious of making kind of bold definitive statements but historically we've always worried about the PEO going into a recession or into a crisis being challenged because it does tend to be a kind of a more expensive, if you will, solution, if you will. But it also provides an enormously higher amount of value, right. And during these types of situations, like for example, our PEO handles the questions, not just of our clients, but of the employees of our clients.
To be clear, these decisions represent tactical adjustments and do not represent a change to our overall clients fund strategy. At Innovation Day, we covered several topics and I'd like to reframe a few of our key products against today's backdrop. With ADP RUN, we help small businesses manage their essential HR task from basic payroll to a full HCM suite. We highlighted our push-to-drive digital sales and on-boarding capabilities which is especially relevant in today's environment. And we also highlighted innovations in automating service and implementation which released pressure on our service organization. We also talked about Wisely and the ease of use and the financial tools that make it attractive — an attractive way to get paid.
With all that said, we remain confident in our product portfolio and optimistic about our ability to drive sustained growth in ES Bookings in a sounder economic environment. When covid hit, many people couldn't make quota for months and ended up getting laid off. It was weird to see because they were still hiring new people at that time instead of putting more focus on their current employees who had been at the company for a while. And then secondly, when they actually do that, then they actually have to put that person through the new hiring process, which is the screening and selections.
And what we've been able to do in the last couple of years, I think, demonstrates very clearly our ability to, I think, achieve and take advantage of operating leverage and also to manage our costs very effectively. We've had a couple of years with a very modest, if any, cost — true cost increases while revenues were growing at, what for us is, are very healthy rate. And so we made a commitment that we're going to deliver to our clients through this and help them work through it, whether it's for themselves or for their employees and, unfortunately, I would say, in the short term, we actually have an increase in cost.
Second, as I mentioned earlier, there have naturally been constraints that limited the activity of our sales force. While we have been able to lean more heavily on an inside sales strategy and virtual interactions by our field sales force, there has still been a reduction in our sales force productivity. Our sales organization is experienced and resilient and we'll continue to work hard in the fourth quarter. But to calibrate your expectations, we are guiding for a full year ES New Business Bookings — our ES New Business Bookings to be down 20%, which implies our fourth quarter bookings will be down by more than 50%.
Thread Regarding Adp Layoffs
So it tends to be attractive to a higher average wage employer that is very concerned with attracting the right people and retaining the right people. So that also tends to lead you in the direction of clients that are a little bit larger, maybe a little bit more financially capable of paying those fees, etc. So that — but that — not sure that we can have a scientific way of proving that one, but for sure, the average sized client of a PEO — of our PEO is larger than in our SBS business and hence the pays per control drop would logically be smaller. Well, I mean, I think based on the comments we gave you about the third quarter and the year-to-date, I think we're doing pretty well competitively because our — I think our retention was up. So it's pretty clear that we were doing something right competitively. Our NPS, whereas, are at record levels across most of our businesses. So again, the problem is this is not the time to brag and talk about the third quarter, but we had a — we really had incredible momentum coming into the third quarter on a number of fronts, but that's that, and we're on to now figuring out how to deal with the future challenges.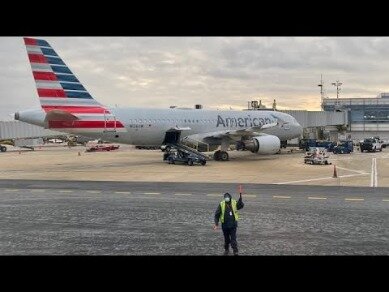 For context, this level of pays per control decline is significantly worse than even the worst quarter in the financial crisis, underscoring that it's hard to compare this environment even against past recessions. While we hope that legislation aimed at preserving employment will drive a recovery in pays per control, we had not seen it through mid-April. We also worked with our critical third-party service providers to ensure they were positioned to continue to support us. And in March, we also had our field sales force shift from in-person to a virtual sales model.
If I were — if we had to make a bet today, we would say that it's not going to be a V-shaped recovery and it's probably not going to be a U or an L, but it's going to be some other kind of shape where we obviously already had a precipitous decline. We are already seeing some signs of some stabilization, so we have metrics that we track like in our HR systems of our clients. For example, new job postings or number of screenings that are done like background checks and some of those metrics have actually begun to stabilize. And so the difference between a V and an L is a check mark, like I think some people are out there quoting.
But we have a number of other indicators that we can look at that, that gives us an earlier view of where we're headed. I think the first one that we're keeping our eye on is really these kind of leading indicators, if you will. And so that I think is — those are, I think — the job postings is obvious in the sense that people aren't really going to post new positions if they think that things are not going to, at some point, improve. So to me that's a sign that people are doing the same thing we're doing, which is, we're conservative and we're cautious, but we have to be prepared for every eventuality including the optimistic one. So, there's a lot of real positives and good reason why people want to stay on a PEO or why they want to be on a PEO even in a recessionary environment.
This one said, we are a small business that has used ADP for quite a few years now. Every time we call, there has been a knowledgeable professional at ADP that immediately solves the problem and answers the question. We recently needed payroll data to apply for the COVID-19 Payroll Protection Program. I immediately went to ADP's website to see how I should go about selecting and downloading the required payroll data. Imagine the relief when opening the screen, there was a COVID-19 pop-up that proactively provided your clients with the payroll data needed. We just want to tip our hats to everyone at ADP for a great job.
But again, given the timing of this column, where we are today, we really can't tell you that there has been a meaningful decline in our workloads. But I think, as you've heard, same as us, in the press, the process has been, given the magnitude of the — on the scale of the challenge, it's been a difficult process both for the SBA and I think for the banks.
Q: Do I Have To Provide Advance Notice To Furloughed Employees?
Thank you for squeezing me in and great to hear everybody's voice. You — just a little bit of a follow-up on the PEO question, I mean as you just highlighted that Worksite Employees and PEO are a bit more resilient because of the larger size of company but the revenue guidance there is down more significantly in Q4. Maybe like a tactical question, just around what drives that in the short term, but maybe a broader question, Carlos, for you coming from originally the PEO business, how should we think about how the PEO will act through a recession period? Do you expect increased demand for the PEO or some clients dropping out of the PEO?
We've tried to do our part to help and we're optimistic and we're hopeful that it will make a difference and that there will be rehiring and that it will at least, in some respects, stop the furloughing and the elimination of jobs going forward. But unfortunately, it's just a little too early for us to give you any kind of concrete evidence other than some anecdotal stories that money is making its way into the bank accounts of small businesses. Through the combination of a challenging sales environment and anticipated increase in out-of-business losses, a decline in pays per control and potential decline in wages and hours worked, we expect to see pressure in our balances in the near term.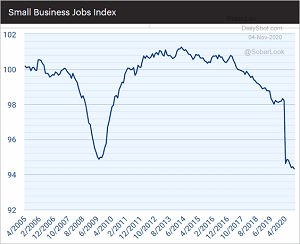 We actually take some responsibility for the outcomes of what they're trying to accomplish. And so the support we're providing around all these regulatory changes, I think is an example of that. People are going to be needing help with calculating how to get forgiveness on those loans. By the way, employment in general is always complicated, but this is a very complicated environment and having great tools and technology is incredibly important and we're totally committed to that. But I think it's undeniable that you also need extra help in these situations to help with questions and to help you navigate through all the various regulatory hurdles.
Nate Monroe: Jea Employee Felt bullied Over Outsourcing Project
Now, realistically, that's not going to continue indefinitely. But every week that we've said we think our call volumes and our workloads were going to go down, there is a new government program or a change in the government program, which by the way, we think, is great. I think that the efforts by the Fed and by policy makers, I think, to help clients and their employees, I think, is the right thing to do and we're very supportive. But as an example, there was just — as you know, there was an approval of an additional amount for the Payroll Protection Program, which generates additional volume for us. By the way, I think the banks are in the same — probably in the same situation in terms of having to handle kind of increased volumes and so we expect these levels to normalize and then to be in a position where we can reevaluate our cost structure.
I mean, clearly, we have to be nimble, I think, remain open to making further adjustments. All of the information that anyone needs is available online through all the tools. There is no really no need to move paper or for anyone to be in the office to do that kind of work. So clearly there will be things that we will learn and we'll probably hear in the early innings of this kind of new challenge and how it might affect our products. But I think, in general, as an industry, so not just for ADP, I think in general, for us as an industry, we're pretty well-positioned I think for this kind of work environment. Before we move on to the Q&A, I just wanted to share with you an excerpt of one of the many notes we receive from our clients that captures how we want to define ourselves.